Step 1A – Log into the website
Log in to the admin section of the website. The link for the admin section can be found in the footer of the website.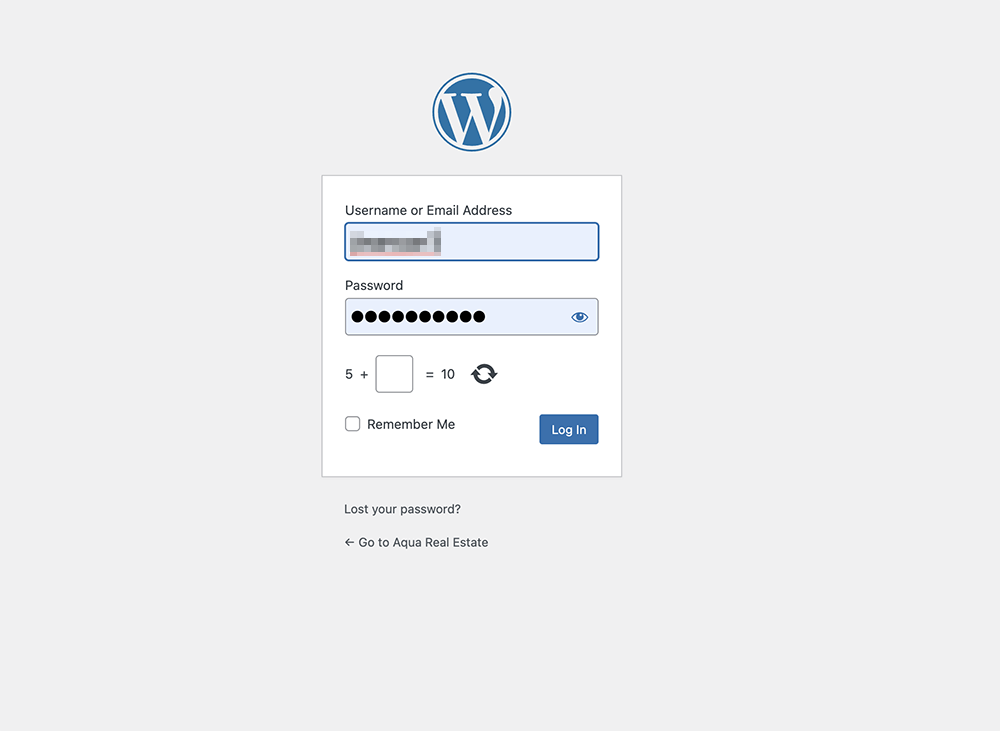 ---

Step 1B – Add New Agent Bio
Go to "Agent Bio." Then click "Add New."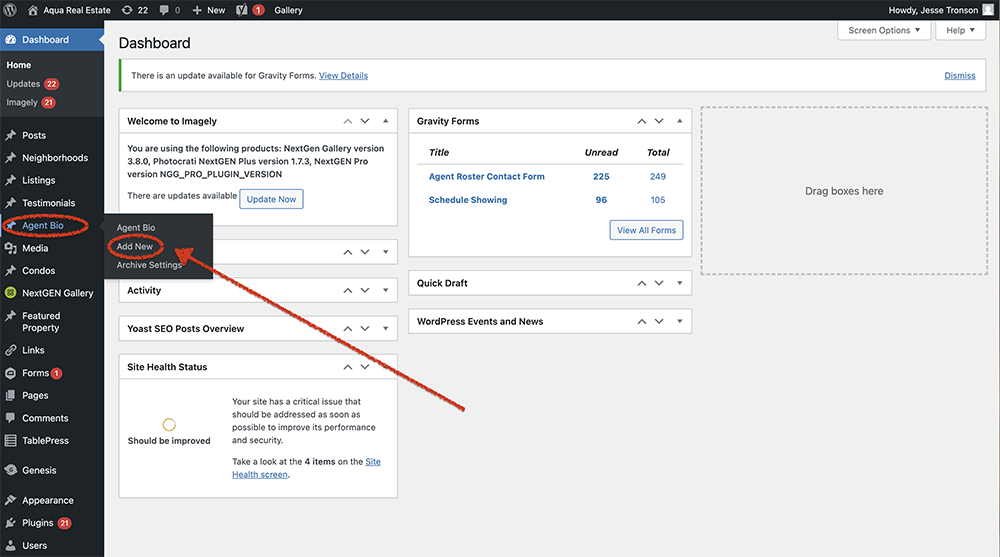 ---

Step 1C – Edit Details
Edit all the details of the new agent in the fields listed below.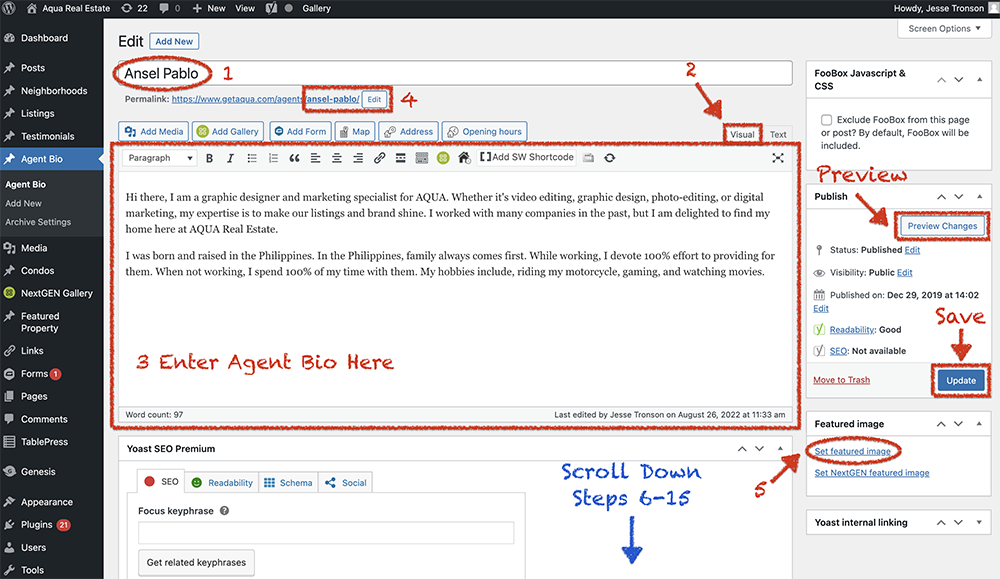 Step 1 – Enter the title of the page. The title should be the brokers name as they wish to have on the business card.
Step 2 – Make sure "Visual" is selected.
Step 3 – Enter the agent's bio.
Step 4 – Make sure the website url matches the agents name. A hyphen must be between their first and last name. It should automatically populate with the correct info. If not, change it.
Step 5 – Upload the agents photoshopped version of the portrait to the website.
Once you reach step 5, either upload the image to the website or if you have already uploaded the image in the past, you can click media library and locate the image to use.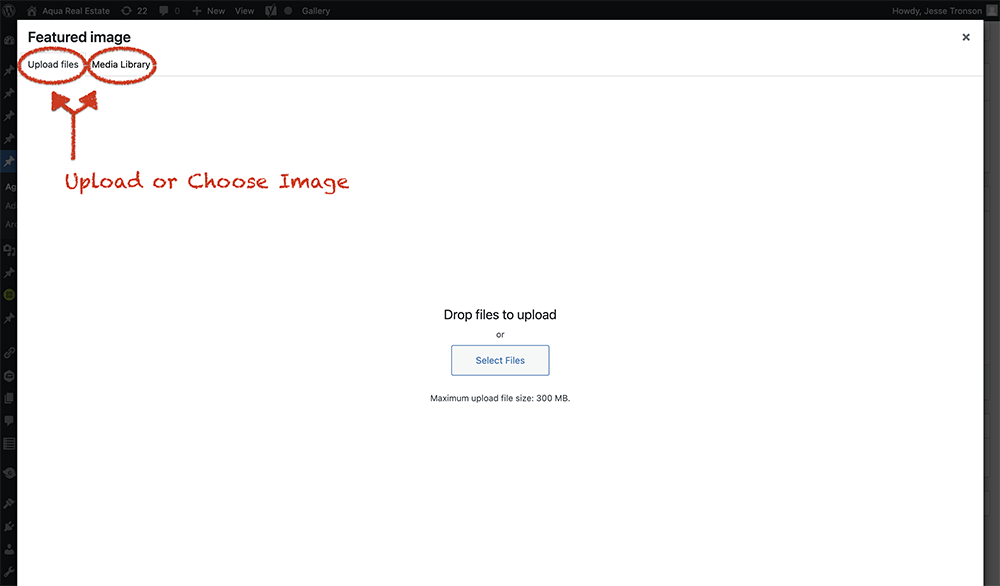 Do not forget to scroll down and finish inputting the remaining values.
Step 6 & 7 – Enter the name as they wish to have on the business card.
Step 8 – Enter the agents company email address or their professional email.
Step 9 – Enter the agents "Leads Channel ID" from Slack. You can find that in Slack or PipeDrive. Note – The instructions to get the channel ID at the end of this page.
Step 10 – Enter the agents phone number. Use a period between area code and prefix.
Step 11 – If an agent has a second number, enter here. This is uncommon.
Step 12 – If agent speaks a language other than English, enter here.
Step 13 – If agent has their own professional website, enter here. This is uncommon.
Step 14 – Enter the text Broker, unless the agent has a special license like Managing Broker or Commercial Broker.
Step 15 – Choose Agent, unless the new broker is part of the office staff. This is uncommon.
Do not Forget – Preview the work to make sure it looks good & save your work by pressing the update button.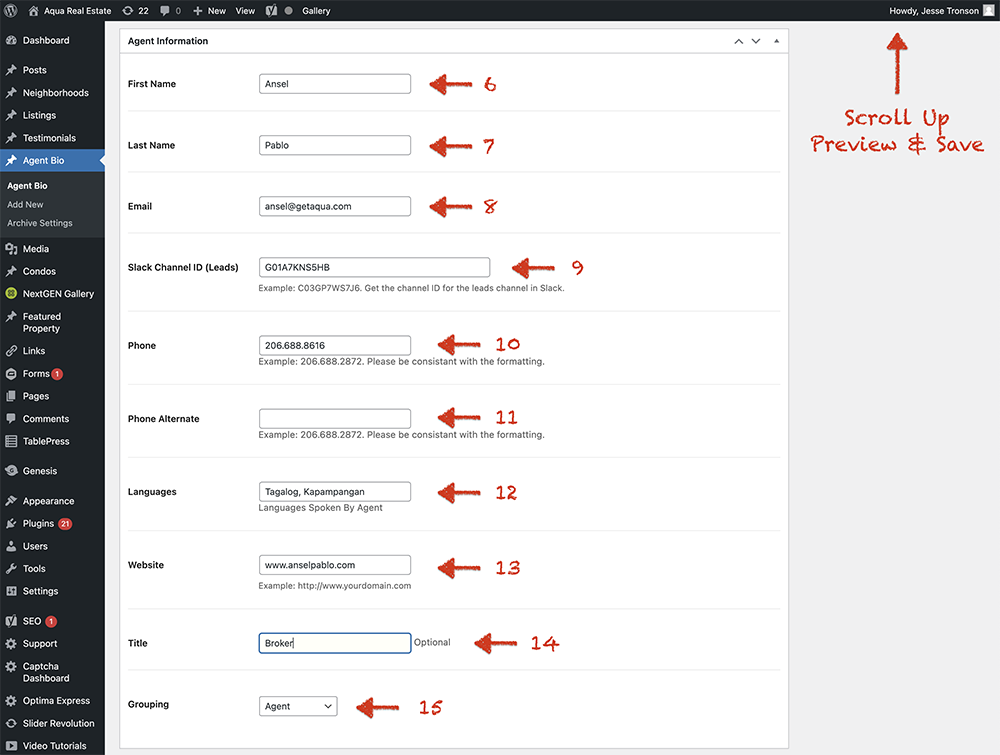 ---

Step 2 – Review the agent and the team page
Visit the "Our Agents" page at www.getaqua.com. Review the photo to see if the head shot size is consistent with the other portraits. If the agents head is too large or too small, then the agents portrait must be edited in photoshop and re-uploaded. Repeat this process until the photo matches the others.
Also review the agent's page by clicking on their profile. Review for any errors and correct as necessary.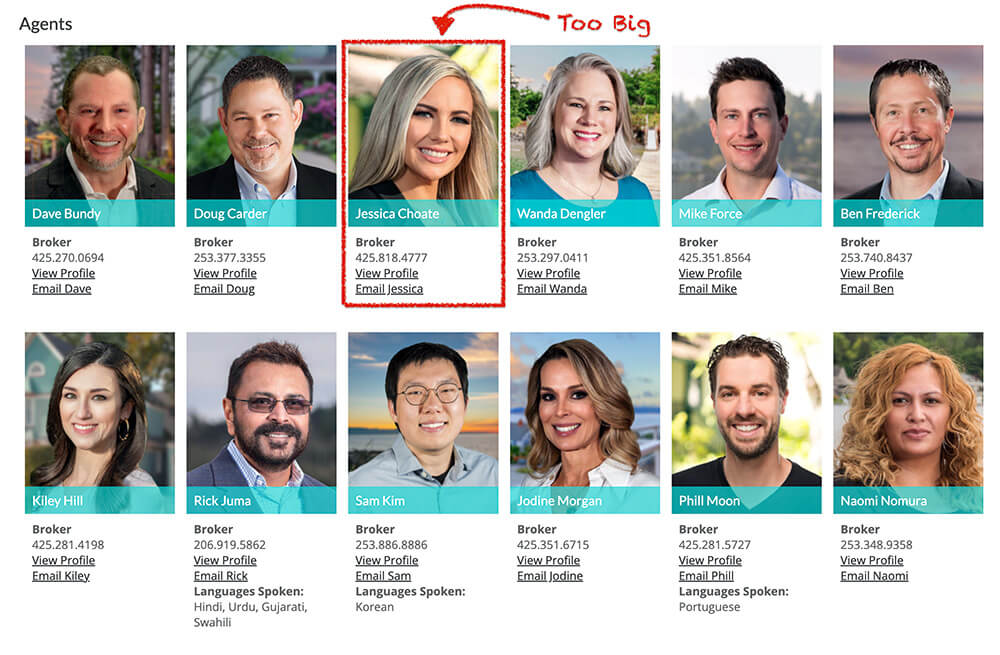 ---

Troubleshooting
If the Slack Leads Channel did not populate in PipeDrive. It can be found by following the step below. Right click on the channel to go to the channel menu. Go to "About" and scroll down to find the channel ID. Press the double square to copy the code.